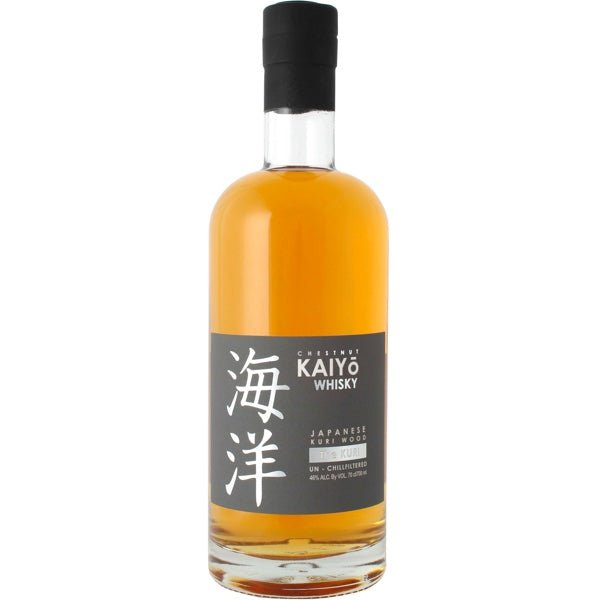 Kaiyo The Kuri Wood Japanese Whisky
Sale price

$69.99
Regular price

$74.89
(/)
Orders of $250 or more receive a 12% automatic discount.
*Cannot be combined with the 10% OFF discount.
---
Kaiyo The Kuri Wood Japanese Whisky is a remarkable expression that showcases the innovative spirit of Japanese whisky making. This whisky is aged in rare Mizunara oak, also known as Kuri Wood, which is native to Japan and imparts unique flavors to the spirit.
Tasting Notes:
Nose: A delightful aroma of tropical fruits, vanilla, and a hint of sandalwood. The Mizunara oak adds a layer of complexity with subtle spicy notes.
Palate: Rich and velvety, the palate is greeted with flavors of honey, ripe fruits, and a touch of cinnamon. The Mizunara oak brings in a distinctive character with a slight nuttiness and a hint of incense.
Finish: The finish is long and smooth, with a lingering sweetness and a warm, spicy undertone from the Mizunara oak.
Distillation and Aging:
Mizunara Oak Aging: The whisky is aged in Mizunara oak barrels, which are known for their porous nature and the unique flavors they impart to the spirit.
Japanese Craftsmanship: The whisky is crafted with precision and care, following traditional Japanese whisky-making methods.
Serving Suggestions:
Neat or with a Drop of Water: To fully appreciate the complexity and unique characteristics of this whisky, it is recommended to enjoy it neat or with a drop of water.
Pairing: This whisky pairs well with sushi, grilled meats, and rich desserts.
Choose options